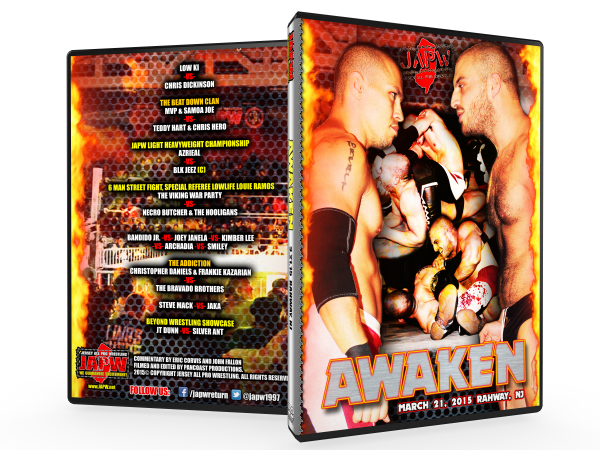 JAPW Awaken (03/21/15 Rahway, NJ)
SKU JAPW032115DVD
Product Details
Jersey All Pro Wrestling presented Awaken on March 21, 2015. The event featured Chris Dickinson taking on the "World Warrior" Low Ki, MVP & Samoa Joe versus Teddy Hart & Chris Hero, and so much more!
Match Listing:
Beyond Wrestling Showcase – JT Dunn vs Silver Ant
Steve Mack vs Jaka
The Addiction of Christopher Daniels & Frankie Kazarian vs The Bravado Brothers
Bandido Jr vs Joey Janela vs Kimber Lee vs Archadia vs Smiley
6 Man Street Fight, Special Referee Lowlife Louie Ramos – The Viking War Party vs Necro Butcher & The Hooligans
JAPW Light Heavyweight Championship – Azrieal vs Blk Jeez
The Beat Down Clan of MVP & Samoa Joe vs Teddy Hart & Chris Hero
Low Ki vs Chris Dickinson
Save this product for later
In memory of "Fat" Frank.