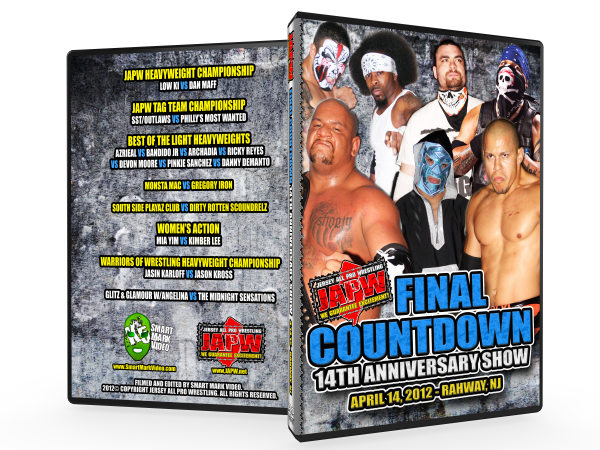 JAPW 14th Anniversary Show (4/14/12 Rahway, NJ)
SKU JAPW041412DVD
Product Details
Jersey All Pro Wrestling presented the 14th Anniversary Show on Saturday, April 14, 2012 in Rahway, NJ. The main event featured Low Ki taking on Dan Maff for the JAPW Heavyweight Championship, SST/Outlaws battling Philly's Most Wanted for the JAPW Tag Team titles, and more!
Match Listing:
1. JAPW Heavyweight Championship: Low Ki vs Dan Maff
2. JAPW Tag Team Championship: SST/Outlaws (Homicide & Eddie Kingston) vs Philly's Most Wanted (Blk Jeez & Joker)
3. Best of the Light Heavyweights: Azrieal vs Bandido Jr vs Archadia vs Ricky Reyes vs Devon Moore vs Pinkie Sanchez vs Danny Demanto
4. Monsta Mac vs Gregory Iron
5. South Side Playaz Club vs Dirty Rotten Scoundrelz
6. Women's Action: Mia Yim vs Kimber Lee
7. Warriors of Wrestling Heavyweight Championship: Jasin Karloff vs Jason Kross
8. Glitz & Glamour w/Angelina vs The Midnight Sensations
Save this product for later
In memory of "Fat" Frank.